November 20, 2018 | News | Tara Reprogle
Scheid Family Wines Recognized as
Scheid Family Wines was named "Outstanding Philanthropic Corporation" for 2018 by the Central Coast chapter of the Association of Fundraising Professionals at the annual National Philanthropy Day event held at the Inn at Spanish Bay in Pebble Beach, CA.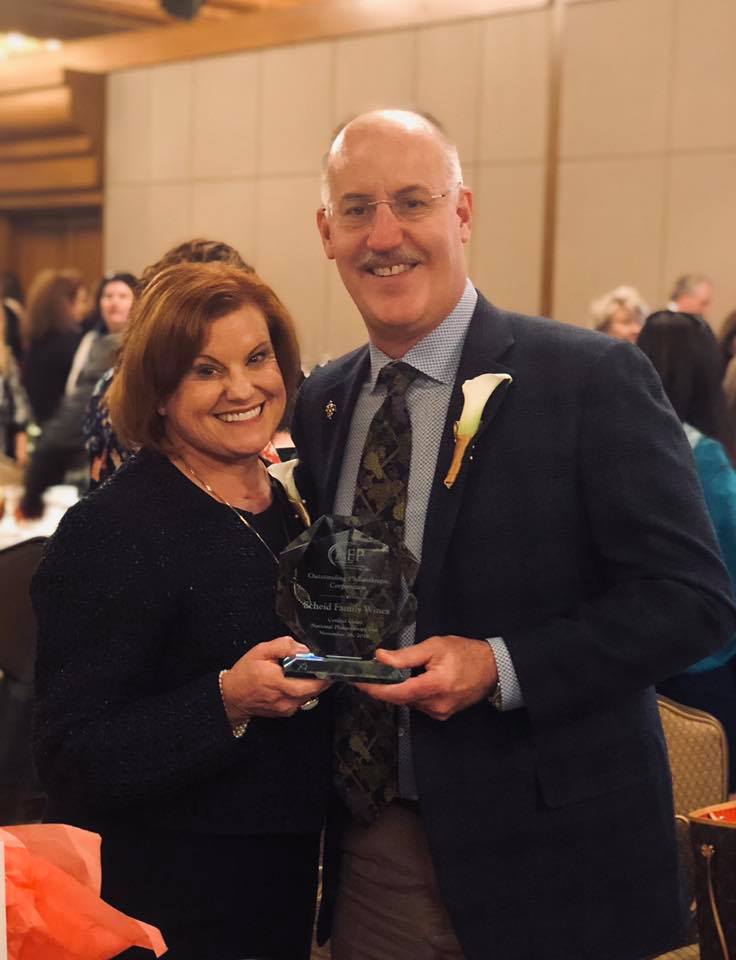 The Association of Fundraising Professionals Monterey Bay Chapter was founded in 1993. Its purpose is to advance the professionalism of individuals working in all fields of development and fundraising, especially at the administrative decision making level, through local networking, education and training, and national and statewide lobbying efforts. The local Chapter offers workshops and programs in conjunction with the Community Foundation for Monterey County, hosts networking opportunities and offers a mentorship program.
Scheid Family Wines is very active within the Monterey County community. Each year, we donate over 300 cases of wine to local, non-profit organizations. We also organize the Annual Scheid Writing Contest, a writing contest that awards scholarships to local high school students.
The Scheid Writing Contest was originally created by Al Scheid in 1984 for his high school alma mater, Bridgeport High School in Bridgeport, Ohio. He launched the contest as a way to give back to the community and provide assistance to motivated high school students who wanted to attend college. Four years later, convinced that the local schools in the Salinas Valley could benefit from the contest, Al brought it to King City High School. Greenfield High School—built on land that was formerly vineyards owned by Scheid—was added to the program in 2001.
Al has always believed that being able to communicate ideas effectively is the key to success. He created the writing contest to give students the opportunity to fully delve into a subject. Each year, the winners are chosen based on their ability to research and write a 3-5 page essay on a given topic. Separate scholarships are awarded for each grade level. Past topics have included Guantánamo Bay and interrogation techniques, the Ground Zero mosque, the impact of social media on society, the death penalty, immigration reform, global warming, the USA Patriot Act and its effect on an individual's right to privacy, the use of military tribunals in terrorist cases, and the pros and cons of the Electoral College.
Now celebrating its 30th anniversary in Monterey's Salinas Valley, the program has donated more than $320,000 to scholarships for local high school students.
Comments
Commenting has been turned off.