August 18, 2016 | News | Tara Reprogle
Pinot Noir Day 2016: A Closer Look at Our Reserve Pinot Noir

A [Brief] Introduction to Pinot Noir
Pinot Noir: a mysterious, beautiful and elegant wine. An ancient varietal, Pinot Noir is estimated to be only one or two generations removed from wild Vitis sylvestris vines and Pinot Noir grapes have been vinified (turned into wine) since the 1st Century AD. The name "Pinot Noir" - black pine - refers to the pine-cone-like shape of the grape clusters and the color of the grapes.
Pinot Noir is one of the seven "Noble Grape" varieties, so named for their popularity and world-wide acclaim: Chardonnay, Sauvignon Blanc, Riesling, Cabernet Sauvignon, Merlot, Syrah, and Pinot Noir. There are approximately 40,000 acres of Pinot Noir in California, 9,000 of which are in Monterey County.
Monterey County's unique climate, with coastal fogs and moderate temperatures that extend the growing season, are particularly suited to Pinot Noir's growing cycle. Our extended growing season allow Pinot Noir to mature slowly, developing complex flavors without ripening too quickly.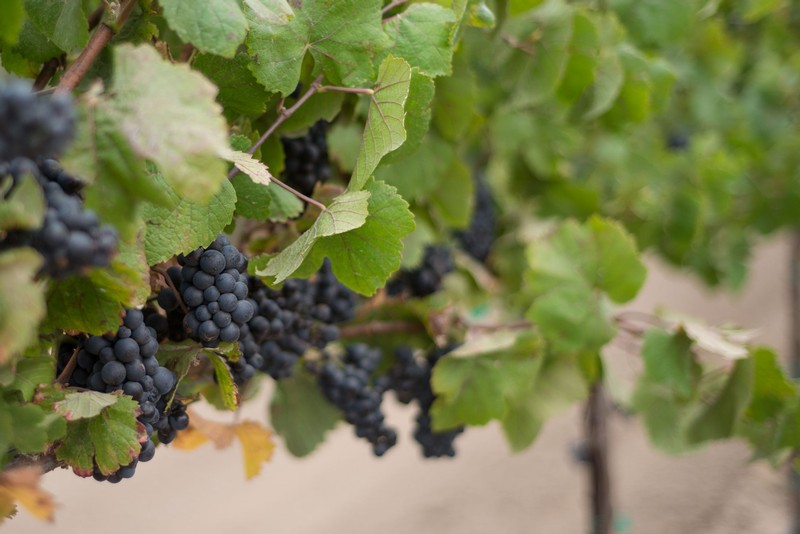 Our Clone Series
What is a clone? A clone is a specific genetic variation of a type of varieties of grape. Pinot Noir mutates easily, and there are over 1,000 different clones of Pinot Noir, the most of any varietal. A typical bottle of wine labeled "Pinot Noir" will actually be a blend of a number of different clones.
At Scheid Vineyards, we grow 17 different clones of Pinot Noir and have selected four to bottle and release as their own wines: Pommard, 667, 777, and 115 (Insider's Scoop: we will be releasing a new vintage of the 115 and 777 spring of next year). Bottling the clones seperately gives us the unique opportunity to taste the individual characteristics of each clone. Let's take a closer look:
Clone POM (i.e. Pommard)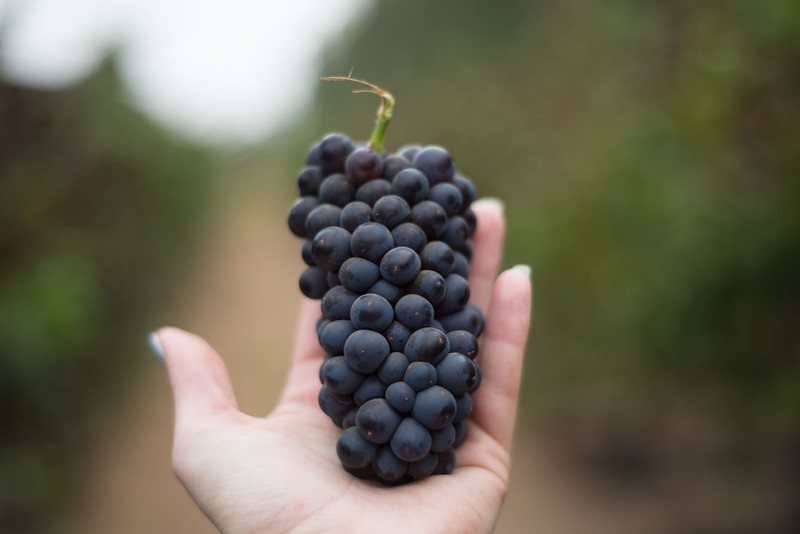 The Pommard Clone was brought to the U.S. in the 1950's from Château de Pommard in the Burgundy region of France and is known for its earthy, fruit forward characteristics, as well as structure and density. Known as a great "stand-alone" clone, it can display a meaty, gamey character with dark fruit.
A dramatic and vibrant wine, our Scheid Vineyards Clone POM has aromas of black cherry, raspberry, cola and vanilla mingled with a hint of clove. It is a classic Pinot Noir, with soft tannins and round, rich, red fruit on the palate.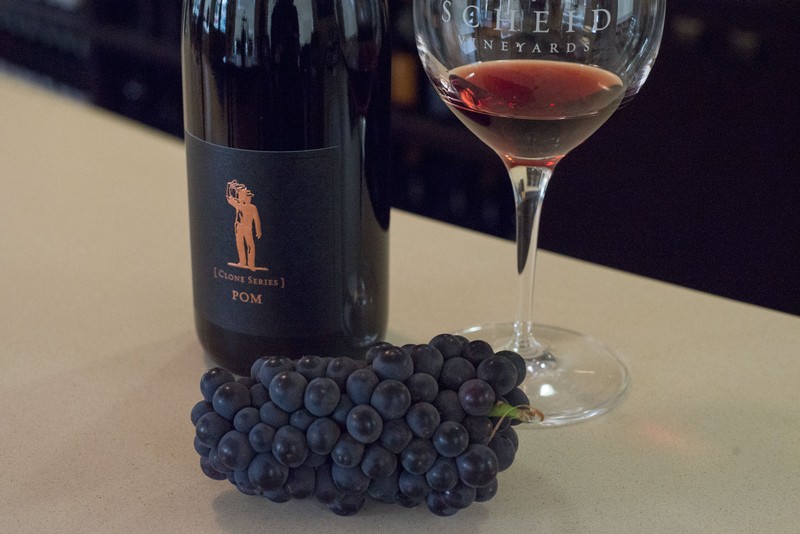 The Dijon Clones
In the 1980's Dr. Raymond Bernard from the University of Dijon, conceived the idea of "clonal selection" or taking buds from vines showing no evidence of viral disease and possessing desirable characteristics. These clones, named the "Dijon Clones" after the return address on their shipping container, were imported from Morey St. Denis to the University of Oregon and quickly grew in popularity in the United States. Some of the most popular clones of Pinot Noir, including 115, 667, and 777 are Dijon clones.
Clone 667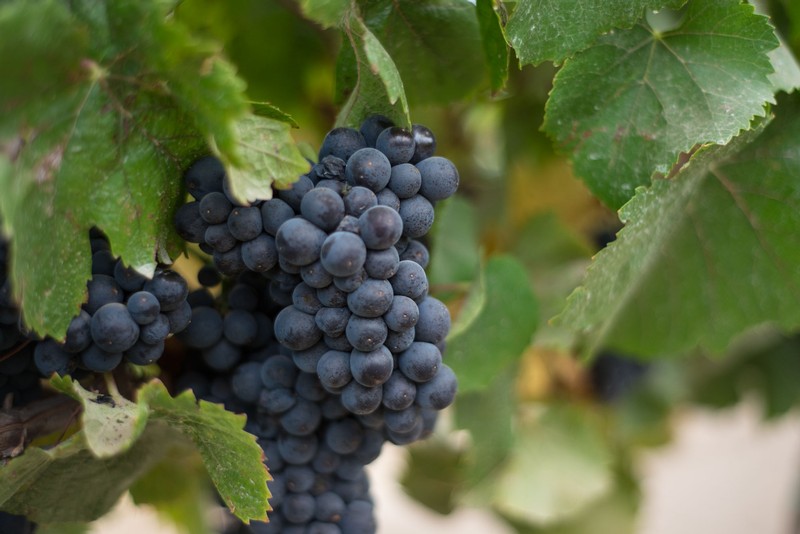 Clone 667 tends to be structured and works as a great backbone in a blend. High-toned and bright with quality aromas of dark cherry, raspberry and spice and soft tannins.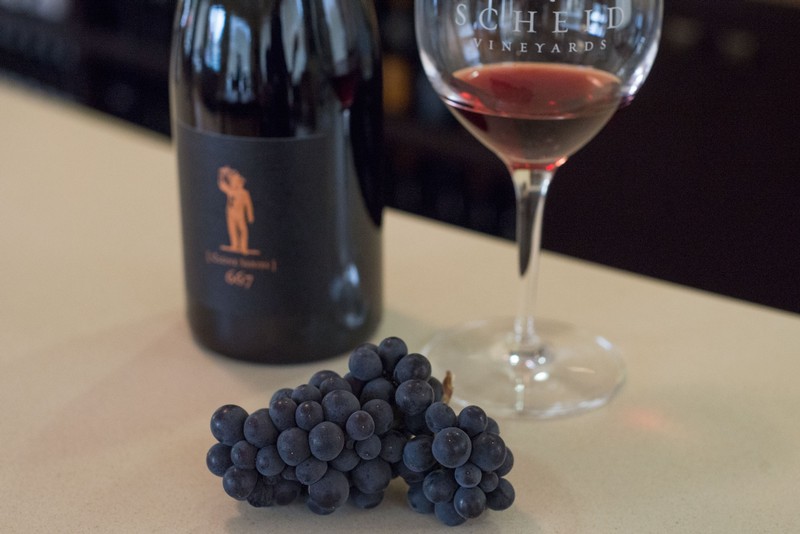 An elegant wine, our Scheid Vineyards Reserve Clone 667 is silky in texture and complex in flavor, with black cherry and raspberry fusing perfectly with an exotic undertone of licorice and black spice.
Clone 777 & 115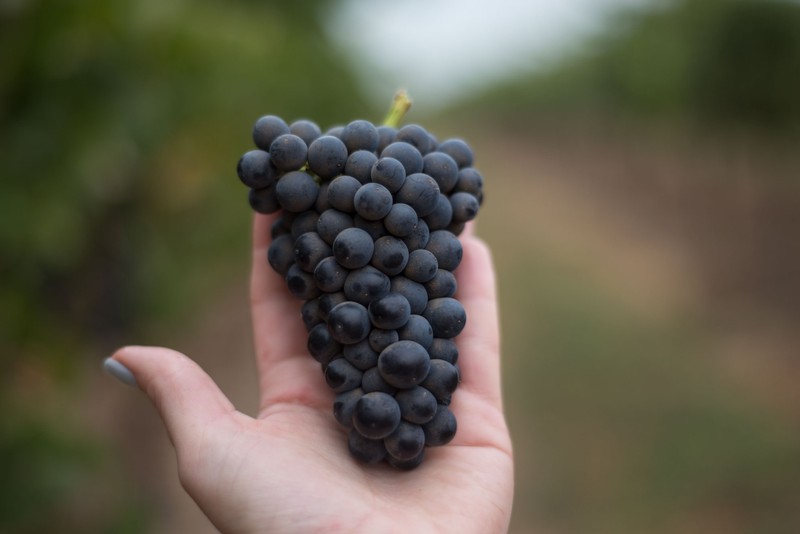 Clone 777 (pictured above) is known for being dark, rich, and structured with an intense color. Earthy, dense, and complex. Clone 115 is one of the most widely planted clone of Pinot Noir. Round, rich style. Noted for great balance and aromatics and one of the most common to be bottled as a single-clone wine. We're looking forward to releasing our 2013 Reserve Clone Series 777 and 115 next year.
The Santa Lucia Highlands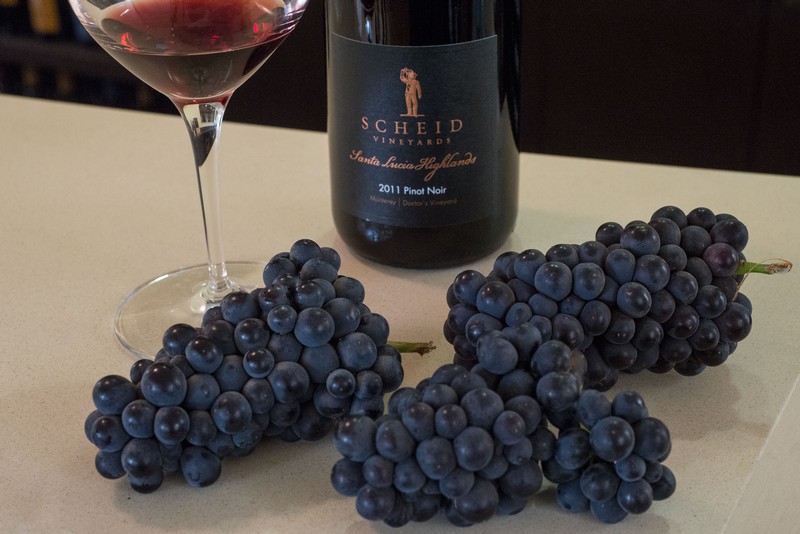 The Santa Lucia Highlands are a very special part of the Monterey County growing region. Designated as an AVA (American Viticulture Area) in 1991, the ancient, glacial alluvial soils pair with the morning fog and afternoon winds to create a true Region I climate, perfect for the Burgundian Pinot Noir grape. The loose, nutrient-depleted foundation makes vines struggle to produce wonderfully complex fruit flavors with vibrant acidity. Marine influenced mornings and afternoon breezes coming off Monterey Bay are the foundation for Santa Lucia Highlands Pinot.
Our Reserve SLH Pinot Noir comes from grapes at Doctor's Vineyard, planted on the Southeast facing terraces of the Santa Lucia mountain range, overlooking the Salinas River Valley. Intense and complex, this Pinot Noir is rich with black fruits, cherry and anise with a hint of cola. Layers of flavor subtly unfold with a silky, elegant texture and a lingering dark fruit finish.
Comments
Commenting has been turned off.