August 11, 2016 | Food & Wine Pairings, Recipes | Tara Reprogle
Food & Wine Pairing: Scheid Vineyards Estate 50/50 with Bourbon Peach BBQ Pulled Pork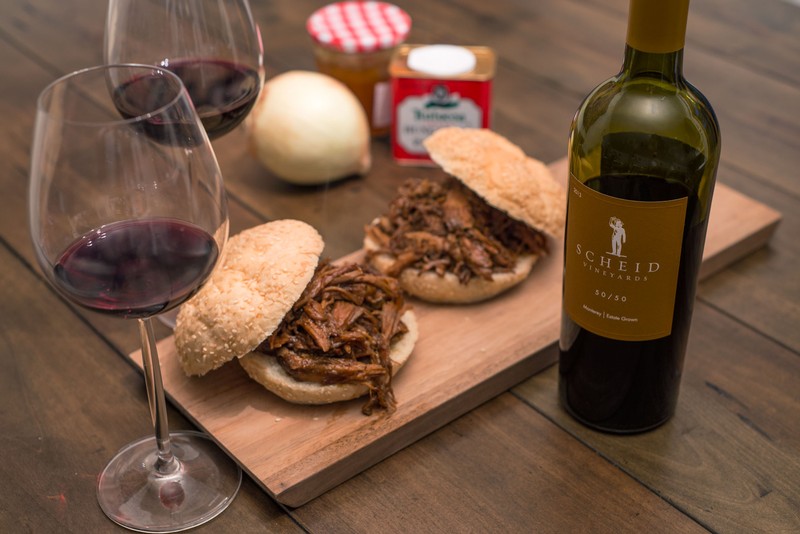 Ingredients
2 teaspoons smoked paprika
1¼ teaspoons kosher salt
2 teaspoons freshly-ground black pepper
1 tablespoon olive oil
3½-pound pork shoulder roast (aka Boston butt)
½ cup low sodium chicken or beef stock
½ cup balsamic vinegar
½ cup molasses
2 tablespoons low-sodium soy sauce
1 teaspoon crushed red pepper flakes
¾ cup peach preserves
2 cups vertically sliced yellow onion
5 garlic cloves, minced
½ cup Scheid Vineyards 50/50
2 teaspoons cornstarch
Preparation
Combine paprika, ½ teaspoon salt, and black pepper in small bowl; rub evenly over pork shoulder. Heat large cast iron pan over medium-high heat. Add 1 tablespoon olive oil to the pan and brown pork shoulder on all sides, approximately 3 minutes on each side then set pork aside in slow cooker while preparing sauce.
Add stock, balsamic vinegar, molasses, soy sauce, and red pepper flakes to the cast iron pan; bring to a boil. Gently loosen browned bits on the bottom of the pan with a wooden spoon and add peach preserves. Whisk together until combined and pour over the pork in slow cooker. Add onion and garlic then cook on low for 5-6 hours or until pork is tender and shreds easily with a fork. Remove pork from the slow cooker and allow to sit 5 minutes. Separate the onions from the sauce with slotted spoon and set aside.
Place a gallon-size, zip-top plastic bag inside a large measuring cup or bowl. Carefully pour the remaining liquid into the zip-top bag and let sit for 10 – 15 minutes, until fat rises to the top. Carefully cut off the bottom corner of the bag and allow the liquid to drain back into the pan but stopping before the top layer of fat. Add 50/50 to sauce and bring to a boil for 10 minutes or until the mixture is reduced to half its original volume. Place cornstarch, salt and 1 tablespoon water in small bowl and thoroughly whisk to form a smooth paste. Add cornstarch-salt mixture to the pan with the rest of the sauce and cook, stirring constantly until sauce begins to thicken, 3 – 4 minutes. Shred pork with two forks and place in a large mixing bowl; add sauce and toss to combine.
To make sandwiches, layer pork/sauce mixture with reserved onions or coleslaw if desired. Pair with Scheid Vineyards Estate 50/50 for a perfect summer BBQ dinner!
If you loved this recipe, we'd love to see your photos! Find us on Facebook or Instagram and show us your culinary prowess.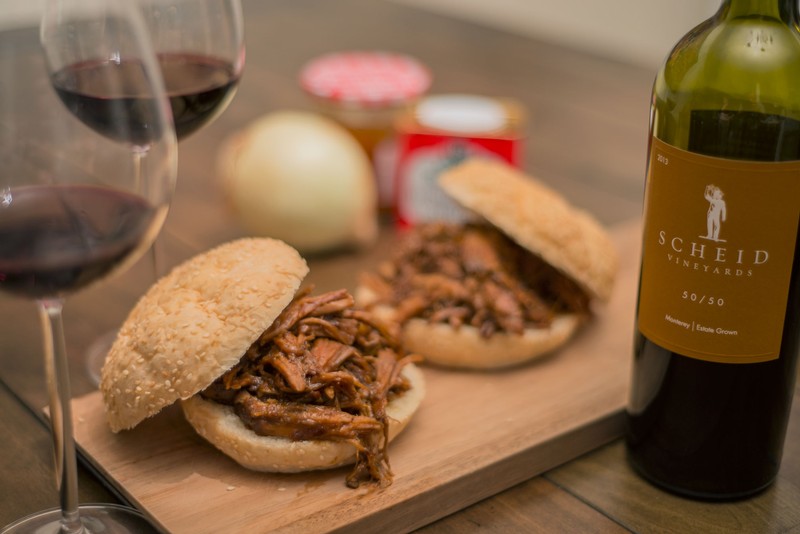 Comments
Commenting has been turned off.