May 8, 2016 | Food & Wine Pairings, New Releases, Recipes | Tara Reprogle
Food & Wine Pairing: 2014 Scheid Vineyards Estate Roussanne with Seared Scallops with Balsamic Glaze and Roasted Cauliflower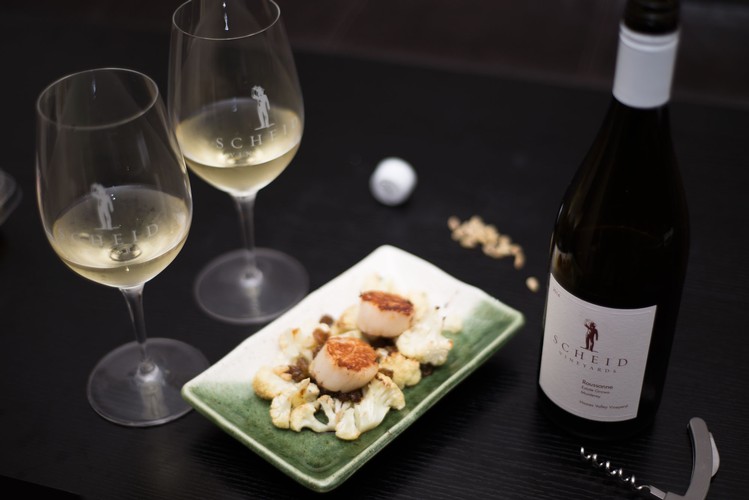 Serves 4
Roussanne is an intriguing and versatile wine that doesn't get enough time in the spotlight. Although Roussanne is common as a component in blends, it isn't often bottled on its own. We were so excited with the quality of the 2014 Roussanne, however, that we had to share it in a limited production bottling of 125 cases. And then we immediately went about finding the perfect recipe to match its light and refreshing character.
We finally settled on this deliciously healthy (and quick!) recipe featuring scallops seared and then placed on a bed of roasted cauliflower with a balsamic glaze. The scallops hold up well to the Roussanne without overpowering the delicate flavors, and the sweetness of the balsamic glaze and currants balance the earthiness of the cauliflower.
Ingredients
1 large cauliflower, separated into florets
1/2 cup olive oil
Kosher Salt
Freshly ground pepper
1/3 cup pine nuts
1/2 cup currants
1/4 cup balsamic vinegar
1/4 cup Scheid Vineyards Rousanne
1 shallot, finely chopped
8 jumbo sea scallops
1/4 cup tarragon leaves
Instructions
Preheat oven to 425° and generously coat a glass baking dish with olive oil. In large bowl, toss cauliflower with 2 tablespoons of olive oil, sprinkle with salt and pepper then roast in prepared dish for 40 minutes. Meanwhile, in microwave-safe bowl, combine the currants, balsamic vinegar and water and microwave at high power for 1 minute, then steep while cauliflower roasts. Strain the soaking liquid into a small saucepan, setting currants aside in a small bowl, then simmer until reduced to 2 tablespoons. Whisk in ¼ cup olive oil and chopped shallot; season with salt and pepper. In a large skillet, heat the remaining 2 tablespoons of olive oil over high. Season scallops with salt and pepper and add them to skillet in a single layer. Cook over high heat until golden brown on the bottom, about 1½ - 2 minutes. Turn and cook the scallops on the other side for about 1½ - 2 minutes. In a large bowl, gently toss the cauliflower with the pine nuts, currants, tarragon and balsamic reduction. Adjust seasonings and transfer to four plates. Top each plate with two scallops and serve immediately.
If you loved this recipe, we'd love to see your photos! Find us on Facebook or Instagram and show us your culinary prowess!
Comments
Commenting has been turned off.