St. Patrick's Day Bundle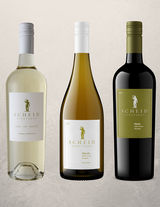 St. Patrick's Day Bundle
Limited-time pricing on our curated St. Patricks Day Bundle, with ground shipping included!
2021 Odd Lot White:
Aromas of pear, yellow apple, melon and citrus are accented by distinct fruit-filled notes of guava and pineapple. A soft, round mouthfeel is complemented by crisp acidity and a fresh fruit finish in this medium-bodied wine.
2021 Albariño:
Pure and vibrant, our 2021 vintage has aromas of pear, citrus, green apple and quince with a lovely floral note. Fermented and aged in stainless steel to preserve freshness and varietal character, this medium-bodied aromatic white possesses mouthwatering crisp acidity and is a favorite in our tasting room.
2018 Merlot:
Beginning with a nose of fresh wild berry and vanilla, our Estate Merlot unfolds smoothly into blackberry, black cherry, plum and boysenberry flavors, framed by a mild acidity and lightly toasted wood notes. It fills the palate with fresh berry pie all the way through the long and engaging finish.