Monterey Chardonnay Bundle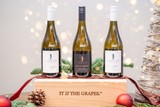 We have curated this trio for our white wine fanatics. This set reflects the different styles of chardonnay, ranging from a crisp Chablis style to a full-bodied chardonnay with structure and balanced oak. These uniquely different chardonnays highlight the grape's versatility, allowing it to pair with your front porch and fresh air or a roasted turkey and mashed potatoes!
2020 Chardonnay
With a fruit-driven core of pineapple, pear and citrus, our 2020 Chardonnay is made in a bright and lively style that strikes the perfect balance between rich and refreshing. Medium-bodied with crisp balanced acidity, it has a lingering finish with hints of butterscotch, vanilla and subtle oak.
2021 Chardonnay Isabelle's Vineyard
Steely and crisp, the fruit-driven core of green apple, Asian pear, quince and citrus is delicate yet bright. Medium-bodied with a crisp acidity, it finishes clean and pure with a hint of minerality.
2018 Chardonnay Santa Lucia Highlands Reserve
Aromas of Asian pear, yellow apple, citrus and stone fruit are complemented by hints of vanilla and butterscotch. The medium body is well balanced with vibrant acidity and smooth oak integration that lead to a long, complex finish.
*Ground shipping is included with purchase. Promotion is not available in AK or HI. Tax not included