Floating Wine Glass Holder 2 Glass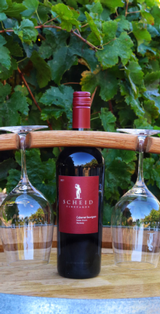 This variation of the rustic oak wine stave glass holder floats your stemware around one bottle of wine. This is perfect for a picnic or romantic dinner for two, or even just a center piece in the dining area of your home.
The 2-glass floating glass holder features all glass slots on the same side. Each beautiful stave has its own unique wine stains, rusty hoop marks, and wood blisters from the winemaking process. Staves are re-purposed into an elegant display for your wine and glassware
The 2-glass holder measures approximately 12″x3″x.5"