Digital Gift Card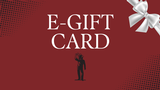 Please note that this is a digital gift card. Recipient will receive an email with a unique gift code for the amount you choose. They can then enter this gift code at checkout to redeem.

When Ordering a gift Card, please note that, while the system will ask for a physical mailing address, the gift card will be delivered electronically. Please ensure that the recipients email is in the "Shipping Address" contact information.
Purchasing a digital gift card goes along with our sustainability mission to reduce our carbon footprint.