Clone Series Trio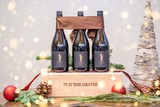 Did you know that here at Scheid we grow 20 different Pinot Noir clones? Our Clone Series was created to highlight the different nuances that each Pinot Noir clone presents. We have curated this set to express three of our favorite Pinot Noir clones from the elegant 2017 vintage: 115, Pommard and 667.
Includes:
2017 Pinot Noir Clone 115 Reserve:
This single clone, single vineyard bottling is a true reflection of the terroir of our Viento Vineyard and the exquisite Dijon clone 115. Elegant rich aromas of cherry, cranberry and hibiscus are followed by subtle pomegranate and all spice notes. The palate has a lingering tart red fruit finish with soft tannins that enhance this medium-bodied wine.
2017 Pinot Noir Clone POM Reserve:
A dramatic and vibrant wine, our Scheid Vineyards Clone POM has aromas of black cherry, cranberry, raspberry and plum, with notes of mocha, vanilla and toasty oak. It is a classic Pinot Noir, medium-bodied with soft tannins, crisp acidity, and a lingering, bright red fruit finish.
2017 Pinot Noir Clone 667 Reserve:
This single-clone bottling is an elegant and refined wine that displays dark color, elegant bouquet, silky texture, and ripe, lavish fruit.
*Ground shipping is included with purchase. Promotion is not available in AK or HI. Tax not included