Celebration Package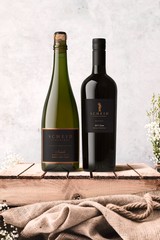 Elevate any celebration with our most sought-after wines curated into this package to embody our legacy and history of tradition. The Claret, cellared in ideal conditions, embodies a true Bordeaux blend of noble varieties. Our Isabelle Sparkling is an effortless celebration wine crafted to showcase delicate and creamy bubbles from bottle to glass.
2017 Claret: A sophisticated assemblage characterized by concentrated aromas of blackberry,elderberry and ripe plum with hints of fresh tarragon and tobacco. The dense flavors and balanced tannins of this full-bodied wine unfold into a long, layered black-fruit finish.
2018 'Isabelle' Sparkling: An elegant and comlpex cuvée, with aromas of green apple, pear amd citrus and notes of brioche and rising yeast. It has crisp balanced acidity, bright fruit notes and a lingering delicate mousse finish.