2019 Pinot Noir Rose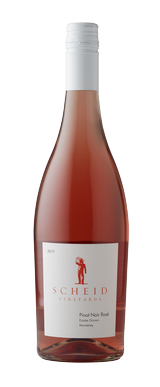 Rosé is often described as a "summer wine" but nothing could be further from the truth. Our Estate Rosé is made for every month of the year, and for any night of the month. Crafted from 100% Pinot Noir grapes, its power is in its subtlety. A copper-salmon hue fills your glass and immediately suggests you're in for something mouthwatering. Bright fruit aromas are met with delicate flavors of strawberry, wild cherry, cranberry and soft lemon-lime. A soft yet vibrant texture and a crisp but lingering fruit finish make this a perfect match for a variety of foods.
Wine Specs
Aging
100% Stainless Steel, 4 months
Bottling Date
Feb 6, 2020
Wine Profile
Vineyard
The Pinot Noir grapes for our Pinot Noir Rosé were sourced from our estate vineyards situated in the cool climate region of California's renowned Monterey appellation. Monterey has all the components of a prime Pinot Noir locale: cooling winds that sweep through the vineyards each day, allowing extra "hang time," and a longer-than-average growing season. These factors translate to more intense flavor development, enhanced depth and richness of fruit and excellent varietal character.
Varietal Composition
100% Pinot Noir
Winemaking
The grapes for our Rosé were destemmed, lightly crushed, and allowed to macerate on their red skins for 12 hours before being gently pressed. Maceration is the process of soaking the color and phenols out of the grape solids and allows for a greater extraction of color and flavor. The insides of all grapes (both red and white) are white and produce clear juice – the color in red wine comes from contact with the dark skins. The longer the grape skins are left hanging out in the wine, the darker the color of the finished Rosé. Fermentation was conducted with select yeast at cool temperatures in stainless steel to retain the bright fruit esters and floral aromas. After fermentation, our Pinot Noir Rosé was aged in stainless steel.